Written by Melia Azzam, Edited by Alyssa Fort
The Essential Farmers Market Guide - On and Off Campus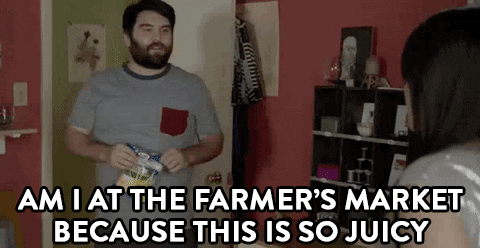 You might ask: why shop at a farmers market when Publix is around the corner? Well, local food is typically fresher, seasonal, and tastes better because it is usually sold within 24 hours of being picked. If you buy produce from grocery stores, it may have been shipped from out of state or kept in storage for days. Purchasing locally grown food keeps us in touch with the seasons. The best time to eat produce is when it can be purchased directly from a local grower right after harvest. Buying local makes for a fulfilling shopping experience since your 'neighbors' are being supported. We (the consumer) create a personal relationship with the people who grow our food because we know it is hand picked, often times pesticide free, and even cheaper. Follow along because I've got your guide on where to find the best farmers markets all over Jax.
On Campus:
Frederick & Ophelia Tate Ogier Gardens
The on campus gardens is a student initiative run garden located on a small plot of land on the campus' west end behind Lot 18. You may have never noticed a garden beyond Lot 18, but if you park your car and walk towards the soccer fields you'll notice them just up ahead.
From there, the trail will lead you to the garden gates. The bountiful garden is completely maintained by student staff and volunteers and is for students, staff and faculty members. The garden is completely organic or chemical free, meaning there are no pesticides or herbicides used on their growing seedlings. The staff is always accepting volunteers that are interested in learning how to grow and harvest organic produce. For the end of summer harvest, the garden recently collected: a bucket of black grapes, eggplant, red and green okra, tomatoes and pears. Take a look at this produce!
The color and shape of these grapes and tomatoes are rarely found in grocery stores. The staff and volunteers are extending the harvest for the fall season by planting new produce in the next few weeks. The new seeds that will be planted for the cool weather months are: cucumbers, pumpkins, broccoli, turnip, figs, squash, fresh herbs like cilantro, parsley and dill. No sign up is required. The best part!? All volunteers receive free organic vegetables, herbs, and fruits or flowers to take home.
Where: 1 UNF Dr, Jacksonville, FL 32224, Lot 18
When: Tuesday and Wednesday 9-12 p.m. and Friday 9-12 p.m. and 1-5 p.m.
Ogier Garden Harvest Photos by Karla Guerra-Student Engagement Liaison
Lend-A-Wing
An anonymous food pantry on campus that focuses on fighting student food insecurity. All you have to do is present your UNF ID! They get new donations every day and the staff sorts through each item's "best by" date so that you get the freshest pick. You won't know until you check it out, but lend a wing carries items such as on the go snacks, pasta & sauces, canned goods and even fresh produce. Some of the fresh produce comes seasonally straight from on our on campus garden. In a recent visit to LAW, I found instant oatmeal, pasta and sauce and canned veggies. This is your one stop shop to make breakfast, lunch or dinner without hurting your budget! Be sure to follow @unflendawing on Instagram for updates.
Where: Hicks Hall building 53, room 1202
When: Mon-Thurs 11am-4 p.m. and Fri 10 a.m.-3 p.m.
Off Campus:
Sprouts Market at Town Center
This is a new indoor market-style store located in the Town Center by Chipotle Mex grill and it's the closest farmers market near campus. Unlike most grocery stores, Sprouts believes healthy food should be affordable. This market specializes in fresh, natural and organic prices that appeal to the everyday shopper. Who doesn't like cheap groceries? On top of their low produce, they also have their own digital coupons and run sales on name brand items. Checkout their online weekly ad before you plan on visiting the indoor market. Their produce area carries a wide variety of produce not typically found at the grocery store. For example, I found purple and yellow broccoli, red yam, endive and cremini mushrooms. Currently, Sprouts is celebrating their seasonal produce with "Hatch Chile", a green Chile pepper from New Mexico. They suggest roasting the pepper to mellow out it's fiery flavor. For Fall favorites, they carry pumpkin spice oatmeal ($2.61), Maple pumpkin/pumpkin spice butter ($2.24), Organic Pumpkin (canned $1.49), and Pumpkin Kodiak Cakes ($5.99). Sprouts also has a deli, soup + salad bar, make your own tea & coffee bags, and a seafood & meat market. Definitely a must-visit store for first timers!
Where: 4873 Town Center Pkwy, Jacksonville, FL 32246
Jacksonville Farmers Market
This gem is located 1 mile west of downtown Jacksonville and has been around since 1938, and it. is. HUGE!! There are multiple vendors with colorful hand picked fruits, roots and vegetables. This is the best place to buy a giant watermelon for $5 during the summer. They've also got specialty items you wouldn't normally find in a grocery store like fresh jackfruit, persimmons, and prickly pear. You can even ask one of the vendors to sample before you buy! In my recent visit, the market is still selling off their summer harvest goodies while preparing for fall. Forget those grocery store prices! I found large watermelons, tomatoes as big as my hand for $3, and sweet potatoes and squash 2 for $1. My biggest score had to be a box of 12 peaches for $5! At the Jax farmers market, you can see how much hard work and care is put into the food before it reaches your plate.
The vendors are kind and giving. Personally, I always visit a little lady that goes by "Mama" in the center aisle. If you ask around you will find her and her produce. She always treats my family and I to extra produce such as bananas and berries. This is a true shopping experience that keeps me coming back. The Jax farmers market is a local gem for your staple goods and recently discovered treats.
Where: 1810 W Beaver St Jacksonville, FL 32209
When: Open all 365 days from 7 a.m. - 6p.m.
Riverside Arts Market (RAM)
For the last 5 years, local vendors, farmers, musicians and shoppers come together every first Saturday of the month for a community arts market. The arts market is known for its live musicians, fresh produce, jams, jellies, and pickles, and a selection of small businesses. I really recommend RAM to anyone that is not familiar with the Riverside area. It will give you a good taste of the community. RAM offers an area called "Farmers Row" which hosts multiple vendors from from Jacksonville and as far as 32 miles away.
Once you're finished shopping, take a break and enjoy the Riverwalk next to the St. John's river. You can spy downtown Jax and the blue Main Street Bridge from the Riverwalk.
Some of the booths I recommend stopping by before you leave:
Olive My Pickle - PICKLES! You can buy (and try!) one pickle or bulk pickles to snack on.

Cross Creek Honey Company - Premium Florida honey

Moon Booch- Specialty draft kombucha & Coffee - Try the Cotton Candy Latte

Kravey Gardens - Micro-greens

Eat Your Yard Jax - Edible plant nursery
When: 1st Saturday of every month 10 a.m. - 3 p.m. Rain or shine!
Where: 715 Riverside Ave Jacksonville, FL 32204
Free parking is located next to RAM at the Black Knight/FIS lot or around the surrounding neighborhood. More at https://riversideavondale.org/ram-home/.
Mid-Week Market in Atlantic Beach
Can't make it on the weekend? No worries. The Mid Week Market has you covered for an evening shopping experience. Running year round since 2012, Mid-Week FM is located within the Atlantic Beach community and is open to family and friends. If you're near the beaches area, the Mid-Week farmers market is worth stopping by! Local growers and makers come together once a week to supply the community with local items.
Where: Bull Park: 7th St, Atlantic Beach, FL 32233
When: Every Wednesday 3 p.m. - 6 p.m.
If you plan on making any purchases while exploring any of these farmers markets remember to bring a reusable bag. Since they are local & small businesses, they may not have many bags to give out. Also be sure to carry cash when visiting these locations because farmers may not take card.
Checkout these other markets in the surrounding areas:
St. Aug Amp Market
Locally grown/ handmade goods and gifts on the Amp's front lawn
Where: 1340C A1A S Saint Augustine, Florida
When: Every Saturday 8:30 a.m. - 12 p.m.
Night market: 2nd and 4th Tuesday of March- October, 6pm-9pm
Learn more on insta @staugampmarket
Free admission & parking at the Amphitheater.
Jaxon's Night Market
Festivities in the heart of downtown Jax with delectable street food, local farmers and artisans
When: 5:30 - 9 p.m. 3rd Thursday of every month
Where: Hemming Park 135 W. Monroe st 32202
Free parking at meters downtown after 5:00 p.m.
Down to Earth Farm
Small family farm in Jacksonville's Northside that believes in locally sourced sustainable food.
DTE grows 60 to 70 types of vegetables from November through June. Find their produce at RAM or Neptune Beach Market
Where: 9355 Old Plank Rd Jacksonville, FL 32220
When: Open Daily 7 a.m. - 10 p.m.
More at http://www.downtoearthjax.com/