Packing for the Perfect Beach Day
Looking to plan the perfect beach day but don't know what to bring? We've got you covered.
😎
Maybe summer classes are in full swing, work has been busy, or you haven't been to the beach in soo long due to the harsh, icy spring that plagued Jacksonville. Whatever your excuse is, it's time for a beach day!
Here are 10 essentials to ensure the perfect day.
1. Sunscreen: As much as you want that perfect tan, your skin will seriously thank you for protecting it!
Pro tip: find an eco-friendly brand like Raw Elements, Coola Organics, or Sun Bums Reef Friendly sunscreen. These are all made without oxybenzone and octinoxate, chemicals that are known to harm our coral reefs.
2. Hat and/or Sunglasses: The sun is harsh, every little precaution is worth it, plus you won't spend the day like this:
3. Speaker: When you bring the speaker, you get to control the music choices - a big advantage.
4. Books: The beach is one of the most relaxing places to relax, unwind, and catch up on your favorite readings!
5. Toys! Keep everyone entertained and active with a good 'ol game of frisbee, football, kadima, or volleyball.
6. A towel: a no-brainer!
7. Umbrella: If you're anything like me, you love to nap, and long days on the beach can leave you feeling drained. But have no fear, nap time can be any time with your trusty towel + umbrella combo!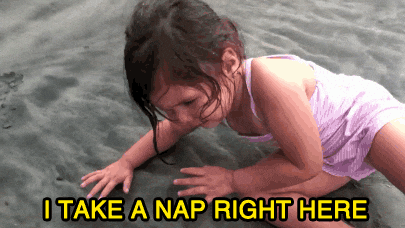 8. Water: Sun + salt = dehydration!
We all know how important it is, but sometimes it's hard to remember to keep chugging water when you're busy swimming, surfing, or running around with your friends. If you struggle with this, try bringing an infused water in your favorite reusable bottle to mix it up and keep you wanting to drink more!
9. Snacks: The easier the better. Make your favorite sandwich at home (can't go wrong with a PB&J!), slice up some veggies, toss an apple and some pretzels into a cooler or insulated lunch box and you're good to go.
If you're feeling fancy you can pack some dips to go with all of your fresh veggies or fruit, like PB with your apple (delish!).
10. Be Plastic Free! One of the most important things to be mindful of is to keep the plastic at home! It's no secret that our oceans contain an astronomical amount of plastic, with single-use being one of the main culprits. We can all do our part to reduce this issue by simply brining reusable water bottles, food containers, and switching to straws made from metal, paper, or other eco-friendly products. Keep the beach cleaner than when you found it!
Most importantly have fun!
And as always, stay healthy, Ospreys!