Paige Bell-Hamm and Casey Hemphill
Pumpkin Spice and Everything Nice: Fall Flavors on Campus
The leaves are fading from green to warm hues of gold, crimson, and chocolate. Dusk is cool and crisp, just like my favorite apples. It's time to wrap up in your favorite scarf, pull out your flannel and corduroy, and warm your hands on a PSL or hot apple cider. Side note: make sure that you have layers on because when you walk outside into Florida's not-so-chilly 88 degree October weather, those Fall accessories may have to be stuffed into that backpack. Nevertheless, Autumn is my middle name—no, really—and I'm here to help you welcome Fall with a tour of some of the flavors of the season on the UNF campus, no matter what the temperature is!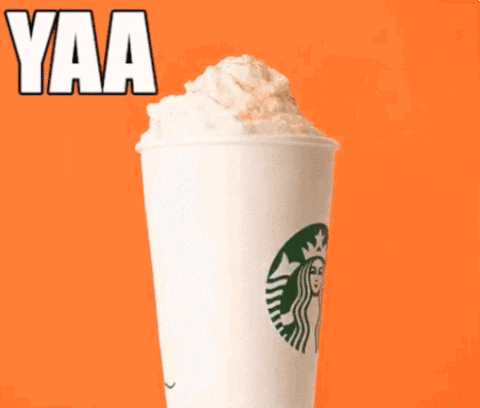 Love it or hate it, Pumpkin Spice Latte (#PSL) is pretty much synonymous with "Fall Flavor." We'll kick off our tour at the campus Starbucks, located in the atrium next to the Thomas G. Carpenter Library. I wouldn't be surprised if Starbuck's middle name is Autumn, too! Featured seasonal beverages available at Starbucks here on campus (besides the beloved PSL) include the delicious Salted Caramel Mocha Frappuccino (which can easily be made dairy-free if that's your style) and the Iced Maple Pecan Latte with Cold Brew. Don't be afraid to add a pump of pumpkin to sweeten your iced coffee or Frappuccino either. If you're looking for a sweet treat, there are plenty of delicious bakery items such as pumpkin scones, pumpkin bread, maple pecan muffins, and apple cider donuts.
Looking for other options? Einstein Bro's Bagels is also home to pumpkin muffins, pumpkin pie lattes (hot, iced, or frozen), and warm pumpkin bagels with pumpkin shmear! Yes, you read that right: pumpkin bagel with pumpkin shmear. Yum!
One of my favorite lunch spots on campus is Chop'd and Wrap'd in Alumni Square. It may not be the first place you would think of fall flavors, but there is a hidden autumn gem here: the limited-time-only roasted sweet potato veggie add-in. Toss in some sweetened dried cranberries with those sweet potatoes and you have a healthy, crisp, and crunchy version of Thanksgiving—chopped or wrapped!
When October is still almost 90 degrees and humid, a frozen fruit smoothie counts as fall flavor! Surrounded by orange pumpkins and sweet potatoes, this bright purple jewel of a fruit really stands out. Pomegranates are harvested in October through February and are packed full of antioxidants. While paired with summer-like fruits such as mango and strawberry, the Pomegranate Paradise smoothie at Jamba Juice is a delicious, unexpected option!
If you're in a hurry and want to grab a taste of pumpkin while you run to class, we got your back! Outtakes just stocked Pumpkin Cliff Bars as well as their signature Pumpkin Spice cookies. Grab a cold bottled Starbucks PSL to go and you've got yourself the ultimate pre-class Fall snack. Looking for something more salty instead of sweet? Outtakes also keeps bags of the crunchy pumpkin seeds available. Pumpkin seeds are a good source of iron and zinc and are also full of antioxidants. They house omega-3 fatty acids which make them great for cardiovascular health and reducing inflammation. Don't you just ♡ that?
When a snack won't do and a meal is what you're after, the Osprey Café at the Osprey Commons hits the spot! You can check out the menu here to take a look. The Osprey Cafe often includes seasonal favorites such as roasted root vegetables like sweet potatoes, carrots, and turnips as well as Fall garden cruciferous vegetables like brussel sprouts, kale, and broccoli. Cranberries and roasted turkey are even featured on the menu this week. Make sure you come on the right day and you will have the opportunity to indulge in fall-inspired entrees like pumpkin pie oatmeal for breakfast and pumpkin chowder for lunch!
Last but not least, head to The Boathouse for the Fall favorite beer: Oktoberfest by Samuel Adams. Oktoberfest is a warm, toasty malt brewed in Munich and you can find it on draft right here on campus.
The seasonal flavors highlighted here are not just delicious, but also offer unique nutrition benefits. Sweet potatoes are high in vitamins A and C; brussel sprouts are high in vitamin K, C, and folate; pears are a good source of dietary fiber and potassium; and cranberries are considered a "superfood" due to their antioxidant content! The opportunities are endless when it comes to fall flavors on campus! Not to mention, these opportunities bring nutrient-dense options that will help you push through the long hours of your (fast approaching) midterm exams.
How will you get your Fall flavors on this month? Let us know by uploading a picture of yourself enjoying the flavors of the season at UNF to Instagram, and tagging us at @unfdining!
As always-- Stay healthy, Ospreys!
#HealthyOsprey #holidayeating #Pumpkin #Fall #eatingoncampus